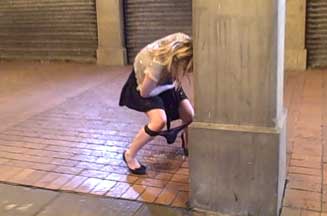 The activity was part of a £25,000 'Cocktales' campaign designed to highlight the dangers of drink to young people in Derbyshire. The video that has been banned from YouTube shows a young woman who urinates in the street, falls over and is then jeered at by a group of passing young men.
'Bloody Mary' received 15,000 hits in the eight days it was on YouTube and was also distributed to local media as part of a £25,000 media campaign.
Alison Pritchard, from Derbyshire Primary Care Trust said: 'This video does have a dark humour in it designed to capture the imagination and show what can happen if you overstep the mark on a night out.
'It has been banned from YouTube because of its content which we realise some people may find controversial. We want people to think about the main messages of safe drinking and use the information to make informed choices on their nights out, particularly around the Christmas period.'
The video can still be viewed at the campaign website www.cocktalesmix.co.uk.