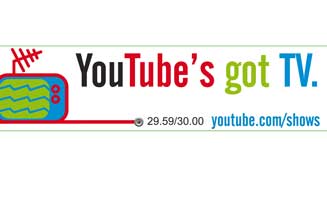 The push for the video-sharing site carries the strapline 'YouTube's got TV' and will run on bus-sides, Tube panels and as full-page print ads.
It will precede the introduction in 2010 of next-generation internet-enabled TV sets by several manufacturers, including additions to Sony's Bravia range, which will carry expanded web technology.
YouTube's ad campaign follows a recent deal with Channel 4 to host full-length TV shows including Peep Show, Holly-oaks, The F Word, The Inbetweeners and Jamie at Home.
The site also has deals to show selected content from BBC World-wide, Turner Broadcasting and ITN, among others.
Some of this content already carries advertising; Channel 4's programming, for example, includes ads from brands such as Virgin Media, Universal, Orange, Samsung and Pepsi.
As YouTube continues to acquire more content, its attraction for viewers is likely to grow accordingly.
However, Rhys McLachlan, head of broadcast implementation futures at MediaCom, says that although online TV is the future of broadcasting, the transition will take time.
'Most people watch the same six channels on TV and will flick if there is nothing on those channels,' he adds. 'Putting TV content online won't stop this regular viewing, but it could collapse the long tail. People will not flick, but instead turn to on-demand services.'
In 2008, more than 1.6bn views of TV shows took place online. This figure is forecast to rise to 5bn a year by 2013, according to Screen Digest.
As well as the latest TV sets, the transition to online TV viewing is being hastened by subscription services such as Virgin Media and the Play-Station 3 games console. The latter pair enable viewers to watch BBC's iPlayer through their television.
Advertisers are waking up to this shift in viewing habits, with InBev taking a lead.
The drinks company has launched a 15-minute show exclusively on YouTube to push the green credentials and provenance of its Stella Artois lager brand.
Meanwhile, broadcasters such as the BBC are investing in online-only content. The BBC is launching a spin-off from its soap EastEnders, while ITV has released online-only episodes of Coronation Street.