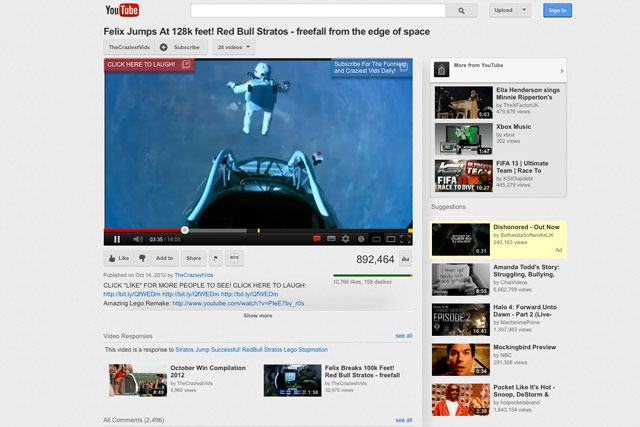 Last Sunday's YouTube live film of the remarkable skydive by Felix Baumgartner was the must-see media event of the week. Not The X Factor on ITV or The Thick Of It on BBC Two, but a rather shaky online stream featuring only occasional sound and even sparser dialogue.
Its success could prove a tipping point in the evolution of online content channels as a focal point of mass entertainment, because more than eight million people viewed the live stream - a YouTube record.
This success could lend greater weight to the arguments of some of the digerati who insist traditional TV is dead. This dates back at least to 2005, when YouTube launched. Then the medium passed away at least twice in 2007 (the launches of Joost and Apple TV) and a deep grave was prepared with relish in 2010 as SeeSaw hit the market.
And yet, no matter how often the last rites are administered, the corpse insists on skipping out of bed the next morning and gaily going about its business. Actually, in the last few years, linear broadcast TV has re-entered a golden age, with quality content actually delivering audience growth and richer engagement.
Still - all things must pass. And so it was that, even before Baumgartner's leap, we read yet again of the death of TV. The obituaries coincided with news that YouTube is to launch 60 new "channels" (interesting use of a very old-fashioned TV concept) carrying broadcast-quality content (ditto) made by top producers including Hat Trick, All3Media and ITN, as well as other media companies including Gravity Road.
It is part of YouTube's Original Channels project, launched in the US in October last year and now being extended to France and Germany as well as the UK. And, yes, the company's cheerleaders in the blogging community arrived at some predictable conclusions as to the significance of this initiative.
The thing is, though, that the technology wonks will, if we wait long enough, probably be proved right. The medium has been evolving and will continue to evolve. And there's always an outside chance that this latest initiative will be a genuine step change.
In this instance, though, Jakob Nielsen, the managing director, Interaction, at Group M, confesses he's likely to side with the sceptics. He explains: "Change is inevitable - and this YouTube initiative is part of that story, but I'm not sure it's a definitive part. We're still really at an early stage. Google doesn't really understand the broadcast world. It's just not in its DNA. So it will make lots of mistakes. It will be interesting to see how broadcasters will react to this latest initiative, for instance. Both sides know that YouTube is reliant on the goodwill of broadcasters."
That scepticism is shared in part by Will Smyth, the head of digital at OMD UK. He comments: "The evolution of content distribution is gradual - and the one thing that the internet is never short of is content. The thing is, though, if you watch a Channel 4 documentary or an E4 comedy on YouTube, you're still more aware of the broadcaster brands than the YouTube brand."
He also points out that convergence (of TV and the internet) is taking longer than many predicted. "I'm not sure we'll see smart TVs making any real impact in the next 18 months," he states.
But Marco Bertozzi, the executive managing director, EMEA, at VivaKi Nerve Center, argues that, while it may be true that broadcasters still have strong relationships with viewers, this YouTube initiative has huge implications both for advertisers and for programme producers. He states: "There are some major production companies that now develop up to 15 per cent of revenues from this form of content distribution, with that figure increasing at a 50 per cent growth rate year on year. Those numbers are impressive."
In fact, YouTube claims that, in the US, it now rivals cable TV in terms of the amount of ad revenue it can generate for programme producers. "The audience figures for top YouTube channels in the US are staggering," Bertozzi states.
Dilshan Swaris, the associate director, broadcast, at Carat, isn't so sure. He likes the fact that YouTube now appears to be developing a more coherent philosophy in this space - but, he adds, the jury is still out as to whether it will work.
He concludes: "The real challenge will be gaining a mass audience for these channels. Most viewers have a list of channels, usually a maximum of ten, that they naturally migrate to despite a plethora of options. YouTube's challenge will be to establish itself on this list - and it will take time."
NO - JAKOB NIELSEN, MD, INTERACTION, GROUP M
"Broadcasters understand content and advertising. They struggle with the data-driven world. Technology companies are the other way around. The something that we are all looking for is in the middle. It will take longer than people think."
NO - WILL SMYTH, HEAD OF DIGITAL, OMD UK
"I can see why producers will want to get access to another distribution channel for their content. But this is part of a gradual evolution. Let's not forget that there's already a lot of premium content on YouTube."
YES - MARCO BERTOZZI, EXECUTIVE MD, EMEA, VIVAKI NERVE CENTER
"When production houses stop seeing TV as the only route to market, that is a game-changer ... And for advertisers, there is now a new way, using these YouTube channels, to aggregate video audiences online."
MAYBE - DILSHAN SWARIS, ASSOCIATE DIRECTOR, BROADCAST, CARAT
"I don't think it will be a threat to broadcast TV in the short term; but, over time, with the inevitable convergence of online and TV, YouTube channels will add to the long tail of multichannel TV viewing."