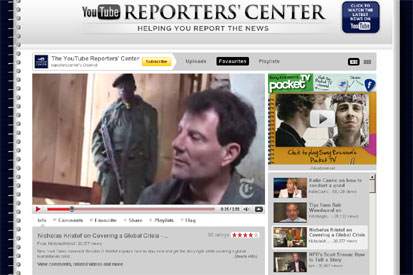 The Reporter's Center features top journalists in the US sharing instructional videos with tips and advice for better reporting, including interview preparation, or exclusive how-to's, like the investigative journalism from the Washington Post's Bob Woodward.
The website also features video snippets from media heads like Arianna Huffington from the Huffington Post, or CBS Evening News' Katie Couric, giving advice on fact-checking, ethics, distribution, making a pitch and capturing video from a cellphone.
Huffington introduced the project on her website, saying that the expansion of the web and the small size and cost of camera phones has sparked the rise of citizen reporting and that "the ability to commit acts of journalism is spreading to everyone".
Huffington said: "Nothing has demonstrated the power of citizen journalism better than the recent uprising in Iran.
"People tweeting from demonstrations and uploading video of brutal violence taken with their camera phones have been able to tell a story, in real-time, and circumvent the efforts of the regime to control the media and the flow of information."
Earlier this month as thousands of Iranian citizens took to the streets of Tehran to protest the national elections, the government kicked out foreign journalists, leaving citizens themselves as the only documentarians to the unfolding events.
YouTube has been highlighting many of these videos and keeping track of the latest developments on its news and politics blog, Citizentube.
Olivia Ma, YouTube's news and politics head, said although the circumstances in Iran are unique, this isn't the first time that citizens have played a crucial role in reporting on events around the world.
She cities recent examples in Burma, where citizens uploaded video footage to YouTube during the protests in Myanmar back in 2007 or people in China's Sichuan province documenting the 7.8-magnitude earthquake of 2008.
Ma said: "Citizens are no longer merely bystanders to world events. Today, anyone can chronicle what they see and participate in the news-gathering process."
The Reporter's Center has about 1,000 subscribers who have viewed the videos more than 40,000 times.