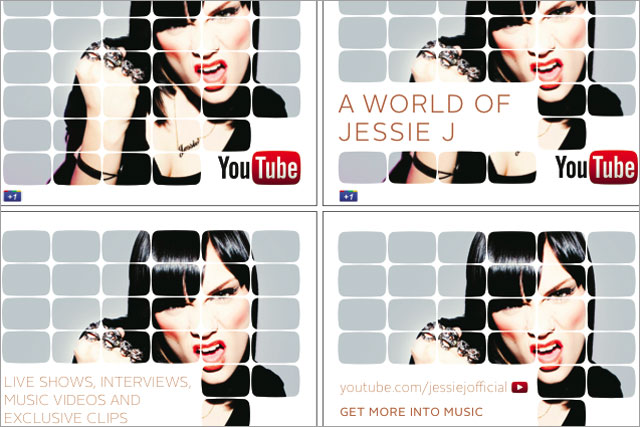 The 'Get More into Music' campaign, created by Adam and Eve, aims to highlight the music videos and artist channels available on the video sharing site.
Jessie J, Lana Del Rey and Ed Sheeran feature in digital and outdoor ads, introducing the 'Get More into Music' strapline. The online display campaign rolled out yesterday across music related sites such as Last.fm, and will run for the next six weeks.
The outdoor campaign runs for the next two weeks, across digital outdoor poster sites in London. Essence Digital handled the media for this campaign.
This is the first time the company has embarked on consumer-facing marketing activity around its music offering in the UK.
Google, which famously avoided traditional advertising in the past in favour of word of mouth growth, started rolling out ads for its Chrome browser in 2009.
It has expanded this to include ads for its voice search and also online safety.
Last year it ran an outdoor campaign for YouTube to promote its newly launched online movie rental service.
This is the first work Adam and Eve has done for YouTube, since it was appointed in November last year to handle advertising activity around its content channels.
The campaign comes as Google is building up its music offering. It is yet to launch its cloud-based Google Music service in the UK, after rolling it out in the US last November.
The service was criticised at launch because it did not have the backing of all four of the major labels.
Last week reports emerged that Google was plotting the launch of a home entertainment system that streams music wirelessly may be marketed under the company's own brand.
Follow Sarah Shearman on Twitter @Shearmans