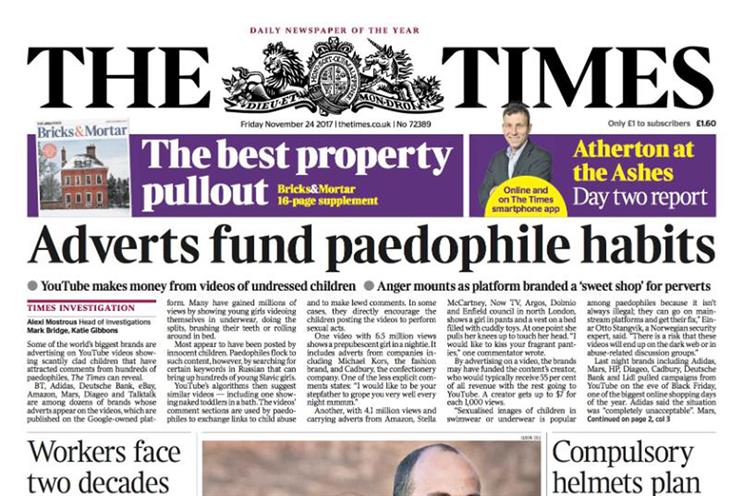 Also, starting this week, YouTube will be turning off all comments on videos of minors when inappropriate, sexual or predatory comments appear.
"We've noticed a growing trend around content on YouTube that attempts to pass as family-friendly, but is clearly not. While some of these videos may be suitable for adults, others are completely unacceptable, so we are working to remove them from YouTube," Harris said last night at YouTube Brandcast.
Harris's statement was made just before this morning's The Times cover story: "YouTube ads fund paedophile habits".
The paper reported that ads were running on YouTube videos that featured scantily-clad children and that these videos were attracting comments from "hundreds of paedophiles". These videos include young girls in their underwear, doing the splits, or rolling around in bed.
One of the comments quoted in the article read: "I would like to be your stepfather to grope you very well every night mmmm."
Brands named in the article include: BT, Adidas, Deutsche Bank, eBay, Amazon, Mars, Diageo, Michael Kors, Cadbury, Amazon, Stella McCartney, Now TV, Argos, Dolmio and TalkTalk.
Some of these brands, including Mars, Diageo, Adidas, HP, Deutsche Bank and Lidl pulled their ads from YouTube last night, The Times reported.
The exposé also claimed that many of the videos had been reported but remained on the site as the decisions were left to "just three unpaid volunteers".
Today's news follows The Times' article on 18 November that reported YouTube channels such as Toy Freaks had monetised videos that exploited children.
In a blog post dated 22 November, Google promised to grow the number of experts it works with, and to double the number of Trusted Flaggers it partners with.
"There shouldn't be any ads running on this content and we are working urgently to fix this," said a YouTube spokeswoman in response to the article in The Times. "Over the past year, we have been working to ensure that YouTube is a safe place for brands. While we have made significant changes in product, policy, enforcement and controls, we will continue to improve."