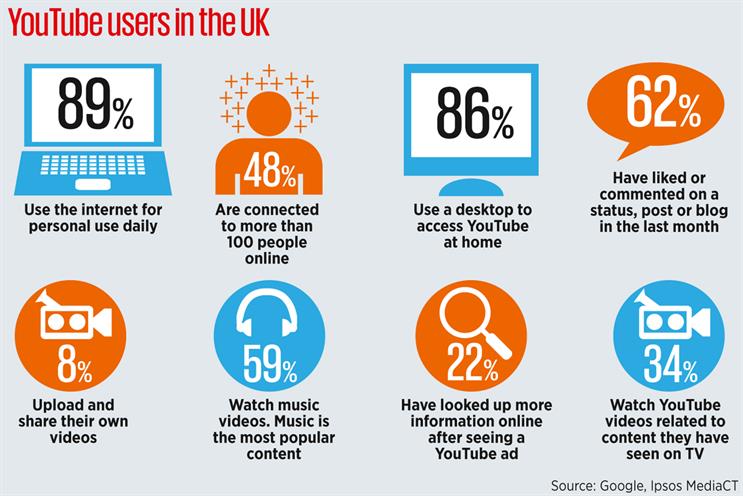 The company wants to disprove the stereotype of YouTube users as a young, anti-social group with limited influence who believe online content should be free.
Google commissioned Ipsos MediaCT to survey 1,583 people in the UK as part of a global study. Of these, 74 per cent were YouTube users and were spread across the 13-64 age group.
Nearly half (48 per cent) of users surveyed were connected to more than 100 people on social networks, while 39 per cent use the platform with their partner. They were two times more likely to buy digital movies and books than non-YouTube users.
Derek Scobie, the head of YouTube brand propositions for Northern and Central Europe, said some older marketers were not aware that YouTube is "more than a viewing platform" where users "engage directly with the content and creators".
He added: "Some senior and older marketers may still experience YouTube largely through clips sent through e-mail or through hearing about it second hand."
Eighty-nine per cent of users said they use the internet daily for personal activities. The most popular type of content was music, followed by comedy and DIY.
Thirty-one per cent of YouTube users said they would be among the first people to try new products, compared with 14 per cent of non-YouTube users.
The most common action taken after seeing an ad on YouTube was to search for information about the brand online, the research found.
YouTube users claimed to watch less TV than non-YouTube users, taking in 13.1 hours a week. They were also more likely to view TV as a secondary medium, with 62 per cent saying they put the TV on in the background while focusing on other devices (compared with 47 per cent of non-YouTube users).