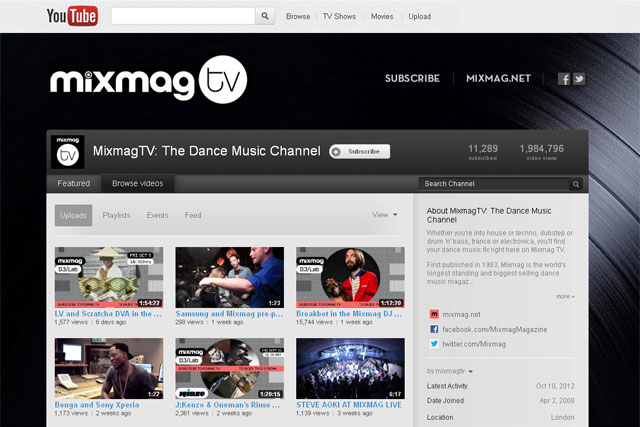 The rollout is part of YouTube's original content partnership scheme. YouTube will advance the marketing costs of the channels and partners will take a revenue share when the channel starts to make money.
The scheme kicked off in the US last year and today 60 channels have been announced in the UK, France, Germany and US.
An example of one of the channels is FASH#TAG, launched by Gravity Road in partnership with Bauer Media's Grazia magazine, where users can visit a physical location in Carnaby Street to appear on the channel, along with contributions from fashion video bloggers.
Others include 'Truthloader' from ITN Productions, which explores citizen journalism, On Earth from BBC Worldwide, which is a nature channel, The Royals, from Diagonal View/Liberty Bell, with facts and information on the Royal Family. The full list can be seen below.
In a recent Marketing interview, Anna Bateson, marketing director for YouTube EMEA, said the vision for the scheme is to offer "a genuine alternative so content-producers don't have to go to a broadcaster or a movie studio. The reality is that there isn't enough money in the system to build sustainable businesses for content creators".

Although YouTube has no editorial control over the over the channels, Bateson said the scheme enables the site to "unlock bigger advertising budgets and bring more money onto the platform".

The new channels available on YouTube from today or over the coming months are:

Bad Teeth, by Base79 & Hat Trick Productions: Sketches, animations and celebrity guest-hosted pranks.
The Best Of, by Diagonal View: Classic music on YouTube, with the best of 50s, 60s, 70s and 80s music curated by music celebrities.

Body Talk Daily, by All3Media: Promoting health and wellness for body, mind and soul.
Copa90, from Bigballs & Copa90: Football for the digital era with interactive experiences and the world's top talent sharing their stories.

Daily Mix, by All3Media: Beauty stars deliver a daily dose of hair, skincare, makeup and fashion tips.
Euronews Knowledge, by Euronews: A broad range of discovery series offering global stories on everything from the arts and education to business and social issues.
Fashtag, by Gravity Road: Live from London's Carnaby Street, FASHTAG - alongside partner Grazia magazine, showcasing fashion need-to-knows and entertainment.
Fast, Funny & Furious, by Zodiak Media Company Bullseye and Zodiak Active: Automotive stunts
Flow, by Base79: Parkour, Free Running and urban sports.
Football, by Base79: Premium football videos inspired by the fans, for shows with season highlights, gossip and interviews.
Global Cycling Network, by Shift Active Media Ltd: Cycling news, editorial, features, instructional.
Guinness World Records: OMG, by Base79 & Guinness World Records: YouTube stars meet with the world's record-breaking people and places and challenge some records of their own.
HuHa, by ChannelFlip: Cartoons for adults.
The Jamie Oliver Food Channel, by Jamie Oliver Ltd & FreshOne: One on one with the celebrity chef where he demonstrates new recipes, sorts out troubles in the kitchen and introduces new culinary talent and food phenomena.
On Earth, by BBC Worldwide: The team behind BBC Earth launches nature channel created for a digital age.
Mixmag TV: House, techno, dubstep, drum 'n' bass, trance and electro music.
The Multiverse, by ChannelFlip: "geek-flavoured" entertainment.
Netmums, by Au Feminin Group and Netmums: A candid place to share stories and gain invaluable tips on surviving parenthood.
The Royals, by Diagonal View/Liberty Bell: Royal news and gossip, presented by trusted royal experts.
Topical Science Channel with James May, by BBC Worldwide & 360 Productions: James May and his team of scientists respond to the hottest topics on YouTube.
Truthloader, by ITN Productions: Citizen journalists set the agenda, making sure you can trust what you see and read.
Follow @shearmans