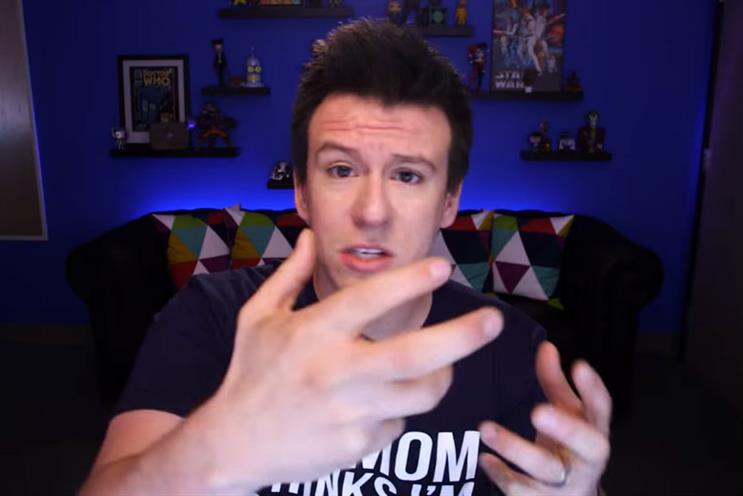 PhillyD, or Philip DeFranco, has hit out at YouTube, claiming that banning content on the basis of not being "advertiser friendly" will lead to "the eventual death" of vlogger channels.
Sporting a T-shirt with the slogan: "My mom thinks I'm advertiser-friendly," he made the statements on his own YouTube channel.
He said: "My argument with them is that you can say they're not shutting down channels, but you are kind of shutting down channels," he said. "It's a slow death, an eventual shutting down.
"My main concern is that everything's too broad."
In particular, he criticised YouTube's criteria, which deem violent, sweary, sexual and even political content as not advertiser friendly. He added that it wasn't clear to creators when they may have contravened the "broad brush" guidelines.
"People have been getting hit for talking about topics like depression and even acne," he said.
Another vlogger, Ethan Klein, said YouTube "never explain anything" around demonetisation.
The co-host of popular YouTube channel The Young Turks, John Iadarola, confirmed that the policy meant he had seen a number of videos demonetised.
#YouTubePartyisOver
The issue originally came to light after PhillyD posted a video claiming YouTube was shutting down his channel by marking some of his videos as not advertiser-friendly.
The hashtag #YouTubeisOverParty also began trending last night (Thursday) in response, as angry creators took to Twitter to express their annoyance.
YouTube claimed a misunderstanding, with a spokeswoman responding: "While our policy of demonetising videos due to advertiser-friendly concerns hasn't changed, we've recently improved the notification and appeal process to ensure better communication."
YouTube has only recently improved its notification processes, making demonetisation more obvious to vloggers.
Rather than forcing creators to dig through their analytics to determine whether a video is not advertiser-friendly, YouTube now shows a yellow $ icon in creators' video manager and the message "Not advertiser-friendly". YouTube will email creators, and vloggers are able to appeal.
It is these changes which have led some vloggers to believe they were seeing more demonetisation than usual.
PhillyD said: "Based off our conversations, it seems like they have been demonetising videos like this for a while, it's just that they didn't go out of their way to tell you, you had to go deeper in your analytics to see that it was happening."
"For at least months, videos have been getting their ads removed and the user just didn't know," he added. "They'd be looking at their AdSense [Google's advertising placement service] and going, 'Wow, why did I make so little money on that video?'"
Campaign understands the changes stem from YouTube trying to make up for a lack of clarity and transparency.
YouTube did not respond for an updated request for comment, but has been responding to creators directly. In a blog post, the company iterated that the changes were part of a "broader effort" to help creators using its platform.