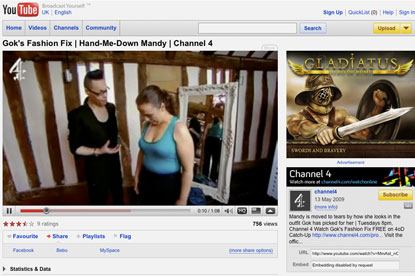 The Google-owned site uses pre-roll ads in the US, but has traditionally opted for text, in-video or display ads in the UK and Europe.
The pre-roll ads will appear beside content on YouTube from Channel 4, ITN, BBC Worldwide and National Geographic, which have partnered with YouTube in the trial. In the UK, Match.com, Warner Brothers, Activision, Renault and Nissan will be the first advertisers to run the ads.
The recommended length of the pre-roll ad is 15 seconds, although there will be an upper limit of 30 seconds.
The test partners can sell pre-rolls via the YouTube salesforce, on a CPM basis.
Suveer Kothari, the head of YouTube in the UK, said: "By providing premium partners with greater scope to monetise their content, we hope to encourage them to place more of their content on YouTube.
"This will give YouTube users more free, entertaining professional content to view and provide advertisers with a more professional inventory to showcase their TV creative against."