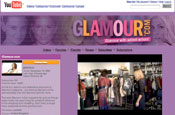 The plan will put the Google-owned site in direct competition with commercial broadcasters such as ITV, Channel 4 and Sky in the battle for advertising revenue.
Set to begin later this year, YouTube's expansion will enable marketers to reach millions of internet users worldwide through branded web TV channels and full-length ad-funded programmes. Marketers will be able to target their ads in real-time based on specific viewer tastes and interests.
In addition, YouTube's InVideo platform offers brand owners semi-transparent 'overlay' ads on professionally produced content from partners including Universal Pictures, NBC and EMI.
The strategy will allow YouTube users to capitalise on the demand for user-generated content by launching personalised channels.
The YouTube Partner Programme, launched in the UK in January, enables users to charge brands to advertise around the content they have created.
The move toward video-streaming is part of Google's commercial strategy to profit from the site, which it acquired for $165bn in October 2006.
Google has been set on rivalling TV broadcasters since its ad revenue surpassed ITV1's in the third quarter of last year. The internet brand made £327m from UK online advertisers in 2007, while ITV1 generated £317m.
A spokesman for Google said that while it was 'constantly working to improve' YouTube, the company had nothing further to announce at present.