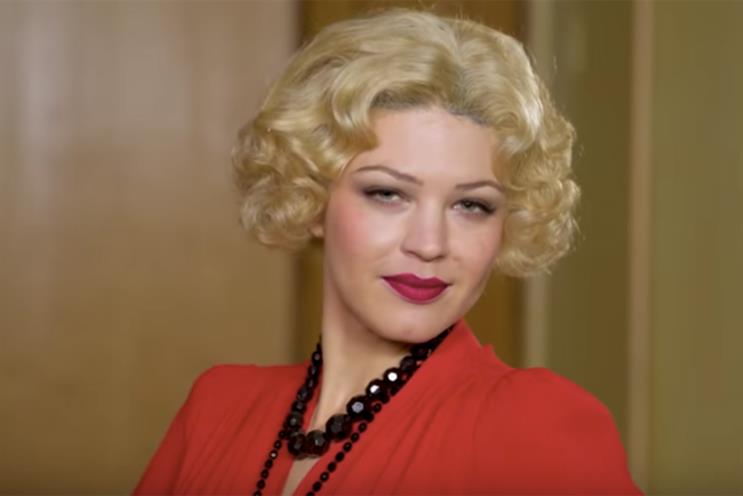 English Heritage
"A recipe for success"
With a video channel that has become an internationally popular brand asset within three years, the charity has taken a strategic approach to YouTube which has grown its subscribers from 1,000 to 390,000 in just over three years.
After becoming a charity in 2015, it interrogated its YouTube output and found a "diamond" among the rest: a video of a Victorian cook that was performing very well. And so Mrs.Crocombe, Audley End's answer to Nigella Lawson and based on a real person, became the star of a Victorian cooking series that expanded into the Victorian Way series which has since stretched into further areas.
English Heritage's first history-inspired make-up tutorial, for example, attracted one million views in under a week and is its most successful video ever. Time periods covered so far include the 1930s (photo above), plus the Elizabethan and Victorian eras.
Its entry has scooped both the overall Grand Prix and the Best UK Breakthrough Advertiser prize. This was awarded to the paper that demonstrated how YouTube delivered disproportionate effectiveness for a brand, brand extension or variant, or a brand who has never used YouTube before.
"It's the fact they managed to repeat their success that made it so good. That's what makes it really interesting. They didn't just get lucky. They managed to dissect what it was that was working"
David Carr, director, marketing strategy & analysis, Publicis Sapient
English Heritage marketers credit YouTube analytics with enabling them to hone our craft. They used metrics like retention and demographic data to measure performance and make improvements to future video content..
"We simply wouldn't have had this level of success on any other video platform," they said in their entry paper. "The YouTube metrics are incredibly useful for us, especially in the new YouTube Studio Beta. They allow us to respond to trends and make iterative changes to our content.We've also seen a large increase in our video impressions, suggesting to us that the algorithm is putting our content in front of new larger audiences."
One of the main targets was to increase brand awareness and reach; an ambition that was smashed, with the 25,000 viewers every month in 2015 swelling to more than 2.5 million today.
The next move is to capitalise on monetising the channel's content. There are even discussions about a history-inspred makeup palette. Medieval eyeshadow anyone?
English Heritage content marketers Tom Dennis and Gareth Clifford talk through how YouTube works for the brand