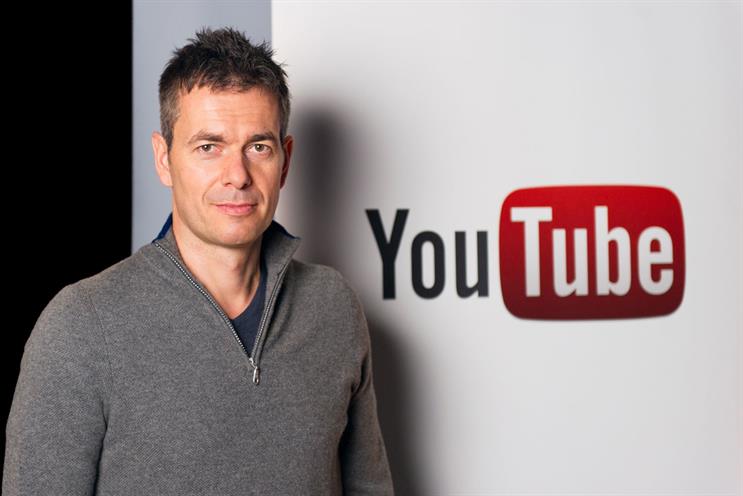 Jamie Oliver is rubbing shoulders with the TV star Sal Masekela, who has just flown in from Texas. Zoella is taking selfies with her fans, musicians from Clean Bandit and Rudimental are milling around. Welcome to Google's Brandcast event for agencies and advertisers.
Despite rumours that Google is planning to bypass agencies altogether, the reported £1 million investment ploughed into dazzling them during last week's UK Digital Upfronts must have been ten times the size of any of its rivals.
In the melee, Robert Kyncl, the head of content and business operations at YouTube, tells Campaign why he thinks advertisers are flocking to the video platform.
"Our revenue has been growing 50 per cent year on year. So, clearly, advertisers are embracing YouTube with a very strong bear hug," Kyncl says. "We have all the top advertisers, we have a lot of small businesses, and I think people are getting it and are increasingly investing in it."
YouTube attracts a billion viewers globally a month, yet speculation suggests its ad revenues were only roughly $3.5 billion in 2013 – a small slice of a global video ad market worth $220 billion. Google does not strip out financial details for YouTube.
Kyncl's job is to boost revenue further and persuade advertisers to spend more running pre-roll ads around prized YouTube content. The ability for users to skip ads they don't like continues to be a big sell with brands.
"If we are doing a bad job of matching the user and the ad, they'll skip it. If the advertiser is doing a bad job of creating interesting ads, they'll skip it," he explains. "The consumer only watches the ads they love… and that is clearly worth more."
Given the high costs of running YouTube – servers around the globe, free apps and 15,000 sales staff – the profit margin must be tight.
Meanwhile, competition is increasing – most notably, Facebook is setting out its stall in the video advertising space and has introduced a view counter.
But Kyncl appears unfazed, simply referencing an AOL Platforms study that found YouTube is more effective at converting video views into sales than any other social network, outstripping its closest rival, Facebook, by "a significant margin".
Kyncl adds: "We have a very small market share of the total video business. Today, we are growing in viewership and revenue, so I hope that continues for a long time."
Part of the challenge is that young users tend to spend short bursts on YouTube; even heavy users rarely spend more than an hour a day. This compares with the many hours people spend watching TV or interacting with friends on Facebook.
But Kyncl is dismissive of TV. "They [young people] don't really watch it; it kind of plays in the background," he says.
"YouTube offers engagement between the creator and the fan. The keyword is engagement – if you are engaged, the ads work better."
But do people want to watch advertising on YouTube – does it not interfere with the fan/star interaction?
"Apparently, they do want to see ads on YouTube because our ads are skippable and there are a lot of them which are not skipped," he says, though declines to give figures.
Nick Burcher, the head of social at MediaCom, agrees YouTube has evolved significantly over recent years to offer myriad opportunities for brands, but says, to make the most of the platform, advertisers need to think about the whole ecosystem.
All a lot of advertisers care about is reaching the right audience and not passing judgement about the content
Burcher says: "There are great opportunities for content, content promotion and display advertising, but real success comes from knowing how and when to join everything up."
To make navigating the platform easier for big brands, YouTube is introducing Google Preferred to the UK, following its arrival in the US in April.
This offers ad opportunities on the top-performing 5 per cent of YouTube content, which is selected using an algorithm that ranks channels according to hits, popularity and engagement.
Google Preferred is seen very much as YouTube's play for TV advertising budgets, as it is selling broadcast-style content rather than specific audiences.
In words that will surely rile those in the content business, Kyncl says: "A lot of advertisers do not care about the content that their ads are associated with – all they care about is reaching the right audience and not passing judgment about the content."
He says these advertisers will continue to use the auction process to reach those audiences. However, he adds: "We have expanded the choices – we are giving them yet another way to buy YouTube that is simpler and is served on a silver platter."
According to Kyncl, since being introduced in the US, the ad slots around the allocated content have "sold out". Now number two at YouTube to Susan Wojcicki, Kyncl's ambition is firmly on reaching "the next billion people".