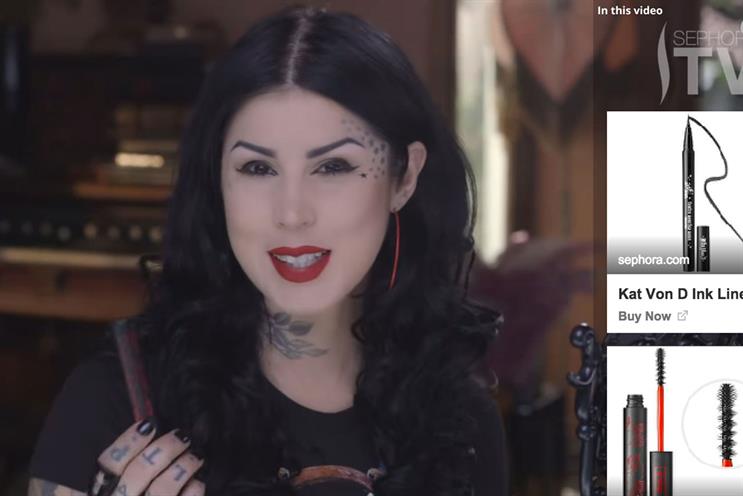 In between showstopping performances from Snoop Dogg and Big Sean in New York last week, one of the things learned by delegates at Advertising Week XII was that they will now be able to shop through YouTube videos.
An "i" will appear in the corner of videos that users can click – once to view ads for the products featured within and again to buy them. They will work in the same way as Google's shopping ads on search.
Diya Jolly, the director of video ads product management at YouTube, said that the ads create an "entirely new revenue stream for creators, providing another way to monetise product-focused videos".
But shopping ads are by no means a new thing. ITV launched similar products for its video-on-demand platforms three years ago. Ad Explore enables users to find out more about a product or service without leaving the VoD environment. Channel 4 and Facebook also have retail features for advertisers to utilise.
Twitter entered the space last year when it began testing a "buy now" button with Burberry and a number of musicians, including Eminem. Last week, Twitter developed the button further by partnering with a number of platforms that power e-commerce sites to make it easier for retailers of all sizes to use the function.
Major brands that have already signed up include Adidas, which has said it will work with Twitter "to lead the social and digital conversation with a focused pursuit of seamless shopping".
It stands to reason, then, that YouTube should decide to jump on the bandwagon. However, what it is offering is essentially the same thing as its competitors.
Neil Shah, a client director at Mindshare, says: "With Facebook, Twitter and Pin-terest all trying to make it easier to shop via their sites, YouTube is supporting a consumer trend rather than shifting e-commerce into a new direction."
Competing with Snoop Dogg for the attention of Advertising Week's 95,000 delegates will at least give YouTube a head start in the escalating battle for consumer clicks.
Yes
Richard Costa-D'sa, chief executive, DF London
"It's unlikely that this generates anywhere near the revenue of Google's traditional formats but, should YouTube nail the relevancy and user experience of the ads, a solution that closes the loop from content to purchase is a good thing."
Yes
Richard Shotton, head of insight, ZenithOptimedia
"What makes this appealing is the scale: there are more than one million channels on YouTube with product reviews.
"All it requires to be a success is for the targeting to be spot-on, with the ad being matched to exactly the right review."
No
Chrissy Totty, head of innovation, Vizeum UK
"It should put a higher value on video for direct-response advertisers and work a lot more like search ads.
"The format should work well for FMCG brands looking to link to product mentions, but it is unlikely to work with emotive content."
Yes
Tuhina Srivastava, senior strategist, Lowe Profero
"The shopping ads will really put YouTube on the map for the exploding social commerce scene.
"The brands that will win will marry context and tech in creative ways to tap into new moments of purchase that Google keeps creating for them."