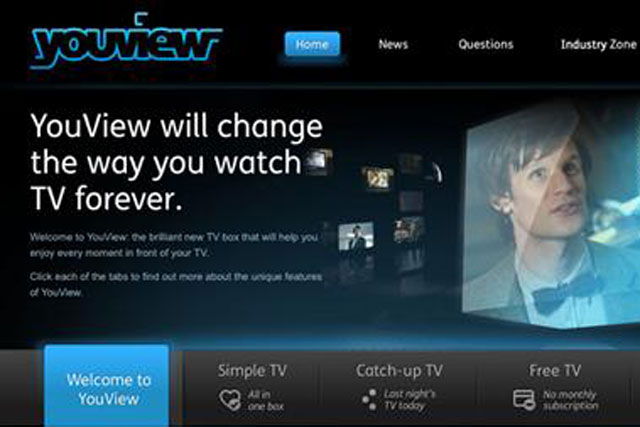 YouView, which finally launches this month after repeated delays, is viewed as the successor service to Freeview. ITV, BT, Channel 5 and the BBC are among the investors in the service
YouView is considering bringing in a digital specialist to help support the television activity, which will launch in September, despite the boxes going on sale at the end of the month.
Richard Halton, chief executive at YouView, said the venture was "looking at our options for [a digital agency]. There's no one committed at the moment.
He said: "We are working with Adam & Eve/DDB and putting a complete package together. If we need additional support we will review it."
Adam & Eve/DDB has developed the television campaign for the launch activity, which will use the strapline, "Extraordinary TV for everyone" to promote the £299 set-top box.
Lord Sugar, the chairman of the YouView joint venture, claims the box could be aimed at both people of his wealth, to people living in the 17th floor of a tower block.
By comparison, set-top boxes from rival Freeview can be brought from as little as £12, while Xbox, which can be used for both on-demand TV and gaming, is available for around £130.
The media plan is still being worked through with partners and the media budget will be determined by the accompanying campaigns being planned by partners TalkTalk and BT, according to Halton.
He said: "YouView will do its own marketing campaign that's completely our own proposition, which will be backed up by propositions from BT and TalkTalk with their offers to consumers."
BT and TalkTalk will both bundle the YouView set-top box with their phone and broadband packages.
YouView will also leverage partnerships with ITV, Channel 4 and Channel 5 to make the make its media budget go further, with a similar model used by rivals Freeview and Freesat.
Marketing activity will be product-centric because, Halton said, if "you've got a product that is simple and easy to demonstrate, that's what you should be showing and talking about in advertising".
Follow Matthew Chapman at @mattchapmanUK