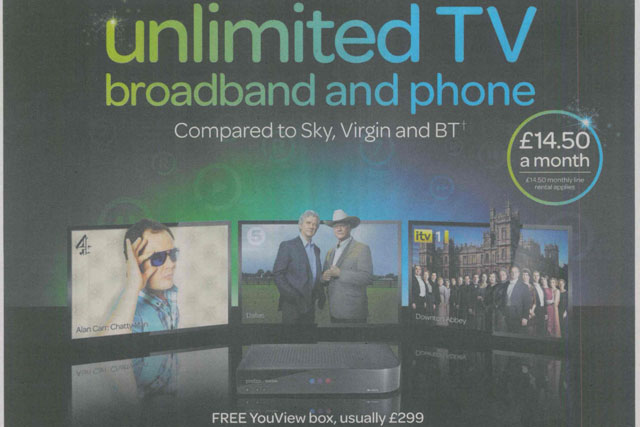 TalkTalk was reprimanded today by the Advertising Standards Authority (ASA) after BT complained about a campaign for TalkTalk that claimed the YouView set top box "normally" cost £299 to buy.
BT objected to a claim on TalkTalk's website a week after YouView launched, which promoted a "free YouView box – normally £299". It also objected to a press ad that ran a day before, on 12 October 2012, offering "free YouView box, usually £299".
Objections were raised to the ad watchdog because BT claimed the "normal" cost of the box could not be substantiated so soon after launching YouView on 5 October.
The YouView box is now available to buy from Amazon.co.uk for £248, but the higher-tier box still costs £299 from John Lewis.
Both BT and TalkTalk were unavailable for comment.
This comes comes after YouView placed its £10m ad account up for review following a high-0profile launch campaign. It is understood Adam & Eve/DDB resigned the account in December.
YouView chairman Lord Sugar will be involved in the pitch process, despite previously claiming he had "abstained" from becoming involved in the advertising for YouView.
Separately, BT has had a TV ad for its broadband package banned by the ASA, after claiming it was free for the first six months, despite customers being required to pay a line-rental fee.
Follow @mattchapmanuk