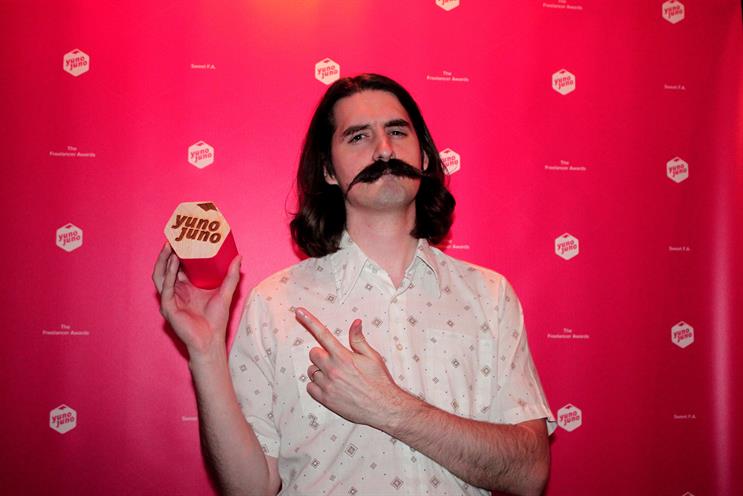 The awards - known as the Sweet FA's - are designed to recognise and promote excellence within the freelance community. The results were revealed to an audience of 300 tech and creative freelancers and agency employers at Shoreditch's Village Underground by BBC 6 Music's breakfast host Shaun Keaveny.
AKQA was named employer of the year and Leeman, freelancer of the year. Other winners on the night were: Jaime Nunez in the creative (art) category; Mary Ann Horgan in creative (copy); Michael Cavanagh in client service; Daniel James Diggle in design; Lara Brook in development; Nicola Hutchinson in project management; Susie O'Riley in quality assurance; Kayta Hackman in social; Mark Stone in strategy and Adrian Van Cooten in UX.
Winners were chosen by their peers from around 800 entries. More than 500 votes were registered in the first three days.
YunoJuno is an industry-validated, invite-only network and platform, founded in 2012, that finds, books and manages elite freelancers in the creative and tech sectors. Jon Claydon, the Club Havas chairman, is its chairman and an angel investor in the business.
Mark Chalmers, the senior talent acquisition manager, EMEA and APAC, at AKQA, said YunoJuno had "disrupted the way we hire freelancers, talk to freelancers and engage with our community. They've really put a breath of fresh air into the way that we work."
Shib Mathew, the YunoJuno chief executive and co-founder, said: "The Freelancer Awards are a realisation of a dream we've had since day one of founding the YunoJuno community. To recognise and celebrate the immense value freelancers add to our industry and the growing impact they are having on how companies deliver the best work."
Leeman, a founder and former member of the band Years&Years, has worked at agencies including Naked Communications and Cake since joining the YunoJuno network.