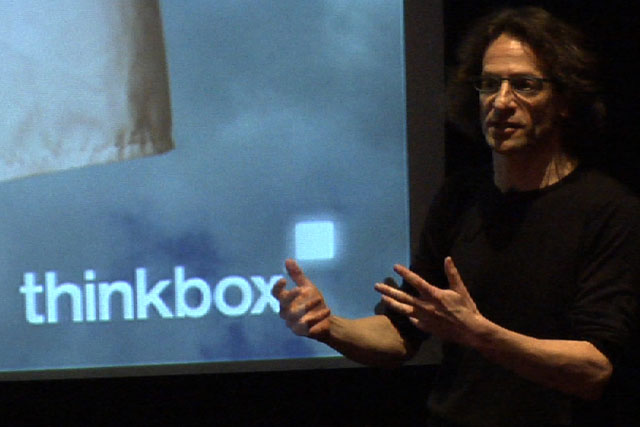 Speaking at a Thinkbox event last week (17 November), the key architect of the BBC's iPlayer, and former chief technology officer at YouView, mapped out a new symbiotic behaviour emerging between TV and social media.

He said: "The key thing is that although people are watching more live [television], our consumer survey [with Lightspeed] suggests that people are becoming more frustrated with live.

"Live hasn't caught-up and stayed with the times. Live beams out resolutely at you, live you can't control whereas everything else on your mobile phone, on your computer, you can choose the things that you want to do."

The technologist noted findings from software company TV Genius that found Twitter activity now regularly spikes during ad breaks. He said: "Ad breaks? I think they're not called ad breaks any more, they're called tweet breaks.

"...I think that ad break is going to change to keep people occupied and using it. And maybe ultimately it gets replaced."

Zeebox launched in the UK at the start of this month as a second screen app that turns live TV into a two-way, social viewing experience. It enables TV viewers to simultaneously connect with people via social media, while finding out more information via links (zeetags) and bespoke additional content.
Mobile is going to change everything
Currently available via Apple's iPad, Rose confirmed plans to launch an iPhone version before the new year. The Zeebox leader believes going forward, "the rise of the companion viewing device, the mobile, is going to change everything".

He added: "This side of Christmas we'll start having ad detection, so we'll know the advert that's playing on TV and give you the opportunity to buy things in zeebox, related to what's on TV."
Channel 4 has been the first major broadcaster to explore the new opportunities around zeebox with its upcoming new series, Desperate Scousewives, later this month.
The partnership - which will run for the duration of the series – will feature specifically commissioned content in addition to standard zeebox features like Twitter feeds and news, instant chat and information on tagged content via Wikipedia.
Rose believes these new commercial opportunities around social TV will be aided by the emergence of "a new language" for TV viewing. He predicts people will learn to juggle second screening while still following the programmes, saying "TV will be this new surfing experience".

His vision of connected living rooms in the future was slightly tempered by Peter Sells, head of mobile at Bartle Bogle Hegarty.

He noted that "media monogamy is a bit of a relief when you get to my age", before stressing that "the point about TV is that its low expectations allow you to multi-task".

Sells disputed the idea that connected TV should aim to enhance the viewing experience, saying it should not compromise or distract from the essential TV experience.

"Short-cutting a Google search is not significant incremental value," he said, adding: "Enhancing the primary content is, that's why [in-built voting mechanisms within] the Million Pound Drop works."

However, Sells did agree that in future TV viewers will expect programming to be "contextually augmented".
He said: "I do think this new landscape has the power to transform how we perceive TV advertising to work, and that's because what we're talking about is really adding another dimension to the TV experience. Not by fooling the optic nerve, but by adding real user value.

"And I think this represents a really important paradigm shift, from seeing TV not simply as a distribution channel, but as part of a service designed around that content."

Drawing on BBH's own recent experience creating Yeo Valley's rapping farmers campaign, he said: "In many ways, this reflects the shift that agencies like mine have made from making big TV ads that standalone, to making big TV ads that are part of a coherent suite of connected experiences."
Sells also agreed with ITV's commercial managing director Fru Hazlitt's comments that most people are boring.

There was a cautionary note amid the excitement of future opportunties, when Oli Newton, head of emerging platforms at Starcom MediaVest Group, admitted that if successful, zeebox might start eating into budgets previously set aside for broadcasters.
He said: "You start to push your money elsewhere, so actually we start to give zeebox money and take it away from the broadcast channel. Because we can, theoretically do more."

Rose was keen to stress the "win, win" nature of zeebox, which can also generate income from retail affiliates buying space directly, and highlighted the "real opportunities for broadcasters to sell on both screens".
Follow Arif Durrani on Twitter: @DurraniMix