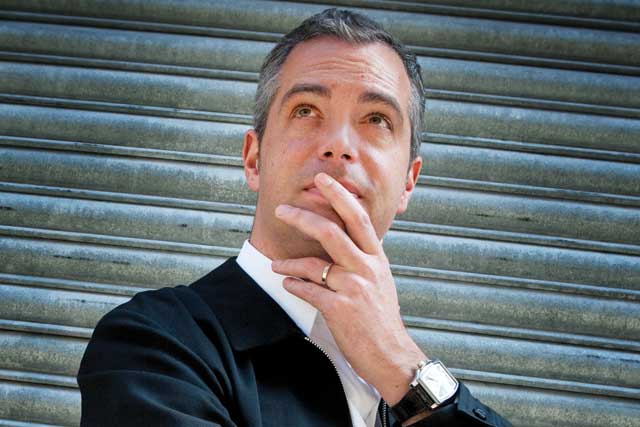 Ernesto Schmitt, the co-founder of the social TV app Zeebox, is the Arnold Schwarzenegger of media. At six foot, four inches tall, he is a lighthouse of brawn (and brain), he walks slowly but with purpose, Terminator-style, and he has the Germanic accent to match.
But maybe Terminator isn't the right analogy, because the media industry is very excited by what Schmitt has to offer. He is so impressive that, when he gives presentations at media agencies, he induces admiration, envy and, yes, a little prurience.
Schmitt seems to think he has come to save us all from the dark cloud of post-advertising Armageddon. He emphatically believes that Zeebox is an advertising gold mine of extremely deep proportions, and here's why.
The Zeebox app turns your iPad, smartphone or laptop into what Schmitt hopes will be the must-have TV "sidekick" for the population of the UK as well as that of Australia, the US, France and Germany, where it is soon to launch. Schmitt and his co-founder, the BBC iPlayer developer Anthony Rose, founded the company last year when the industry was only starting to get to grips with the dual-screen phenomenon. As a result, Zeebox caught the wave at exactly the right time - now, more than 70 per cent of tablet users interact with their device while watching TV.
Schmitt, of course, has his own statistics to hand. "A third of all internet browsing happens while watching TV; two-thirds of people regularly connect with their friends via social networks while watching TV," he says.
Where Zeebox is supposedly superior to Twitter and Facebook in terms of facilitating social chat around TV is that the latter two are both integrated into the Zeebox app - a clever move by the company that, of course, recognised there was no way it could compete with the social network giants. If you can't beat them, join them.
As well as allowing the user to chat, share and Tweet about the shows they are watching, users receive "zeetags" or pop-ups of key facts about content on TV in real time. Zeebox automatically recognises ads on TV and allows users to engage with the products or brands being shown, either through additional bespoke content or by being directed to the likes of Amazon or iTunes to buy products.
It even acts as a remote control for connected TVs, which Schmitt feels is a fundamental USP when it comes to the app's level of stickiness, as the user never has to leave the app to engage with the first screen. "Zeebox will revolutionise the way we watch TV," he claims.
Schmitt says Zeebox serves two purposes. One is that it satisfies consumer desire to interact with TV. While Thinkbox reminds us that people are watching more TV than ever before in the UK, Zeebox commissioned research that found that 57 per cent of the population are frustrated with TV because it isn't personal, social or interactive enough.
Zeebox also serves to "productise behaviour that is already prevalent". Schmitt explains: "The surprising thing is not that people are second-screening, it's the fact that none of it is productised. Without an app like Zeebox, your TV doesn't know you are on a second screen, and the second screen has no idea you are watching TV. So when you are connecting with friends and engaging with products, it is happening in a disjointed, non-productised manner."
He states that "the economic opportunity for advertisers and broadcasters is enormous", because Zeebox brings together the power of good old TV advertising and the immediacy of search where, in a few clicks, a user can make a purchase. "You see an ad on commercial TV that earns the broadcaster each time, on average, half-a-penny," he muses. "You click on a Google ad link and Larry Page and Sergey Brin earn, on average, 50p each time. So there is a 100-to-one ratio between an ad on television and a digital, targeted ad click.
"If what we do is combine linear TV on the main screen with a targeted, personlised click on the second screen that is synchronised, and we only take 1 per cent of the difference in value by making this happen at the same time, you have potentially doubled the value of TV advertising as a medium. For the US alone, that's $70 billion in value that you have created."
So far, more than a million people in the UK have downloaded the social TV app and, thanks to a partnership with BSkyB announced in January (the broadcaster has a 10 per cent stake in the start-up), Sky's 11 million-plus users can also enjoy the Zeebox functionality as it is integrated into apps such as Sky Go and Sky+.
The first agency to jump in was the media shop Vizeum. As part of the FA Cup final, Vizeum, ESPN and Budweiser worked together to offer Zeebox subscribers rich, interactive engagement on the specially created Budweiser-branded FA Cup page on Zeebox. It meant the average Zeebox session time per user for those watching the match was 42 minutes, as opposed to the average 23 minutes Zeebox has so far seen for football matches. Jonathan Palmer, the head of social at Vizeum, says: "It is a snapshot of what the future will look like. The industry would benefit from having more case studies to identify the app's true potential, but we are impressed."
Sky aside, surely the bulk of Zeebox's future success rests on how long it will take for tablets to be as prevalent as smartphones? It doesn't take a genius to work out that Zeebox's dream of "productising" the second-screen phenomenon fits most naturally with the tablet, where the screen is not so tiny that online shopping is frustrating and which is not as cumbersome as a laptop. Schmitt disagrees that the success of Zeebox is pegged to tablet adoption: "It works tremendously well on smartphones and two-thirds of our users are on smartphones as opposed to tablets." However, Palmer thinks that if consumers are going to buy products, they're much more likely to do so on tablets: "The iPad is the best device to use with Zeebox as it gives the user the full experience. The smartphone feels a little stunted."
At the recent Media 360 conference, MEC's head of analytics and insight, David Fletcher, said: "Zeebox is not big yet. 'Yet' being the operative word." Schmitt agrees with this statement: "Compared with Facebook, no, we're not big yet - we have a little while to go, for sure. However, this business is barely six months old. It's so new, the paint is still wet on it."
THE LOWDOWN
Age: 40
Background: Half-German, half-Uruguayan, born in the US, grew up in Belgium and Mexico. My wife is half-French and half-Sri Lankan, and my children (two boys, eight and six) are confused
Lives: Notting Hill, London
Favourite media: Television. I'm a sucker for BBC Four - me and about three other people in the UK. BBC Four's factual documentaries are brilliant - there was one the other day about the very first computer, which is 2,000 years old
Always in the fridge: Smoked salmon
Hobbies: Photography and long-distance running
Belief: The requirement for an entrepreneur is to be both optimistic and imprecise