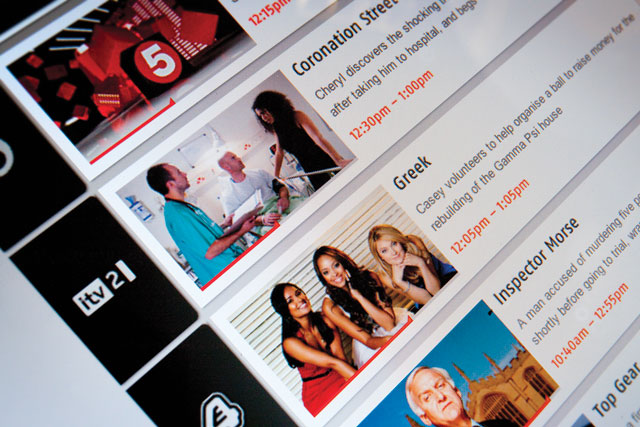 Since its release in the App Store, Zeebox has become the media topic du jour. Everywhere you look, you can see its creator Anthony Rose, with his Doc Brown enthusiasm, extolling its virtue. And every time I read more about it, I am left in awe of its potential.
For those of you yet to experience Zeebox, it's worth having a quick log-on to the desktop version or grab your iPad and download the app.
For those totally oblivious, I commend your bubble.
In short, it is a way to watch TV while bringing in all of the social/internet elements you think you hate but actually quite enjoy when they are presented nicely.
It provides the ultimate experience in two-screen viewing. Zeebox brings together, for example, Twitter feeds, Wikipedia and your Facebook friends all in one place. You can either just occasionally glance at it on your laptop while simultaneously watching television, or fully immerse yourself and end up missing the programme entirely. And if you own an internet-enabled TV, then it can even double up as your remote.
You may have already encountered it without realising it - those who follow Stephen Fry on Twitter will probably have seen his numerous Tweets about the Grand Slam of Darts that came with the associated "Zeebox" hashtag.
So why all the fuss? Pure and simple, it is because this is the first major leap forward for how TV is changing and moving into the truly digital/social space.
1 The majority of things that Zeebox does are not in themselves new, but it takes those things you were probably already doing and packages them in an interface so easy to navigate that you want to get involved.
2 Where the real magic happens is in the Zeetag: it is one of those marvels of internet development that make you believe in the power of magic. Words spoken on the screen are identified and instantly reflected as a topic that you can explore for more information.
3 At the moment, these simply play a further interest and educational role. For example, one of the lead stories in the news recently was about Milly Dowler. A click on the Zeetag brought up the Milly Dowler Wikipedia page, and it also focused all of the Twitter stream around the latest Dowler Tweets, while the "news" tab brought up related articles from The Daily Telegraph, The Guardian, Financial Times, The Washington Post etc. Alternatively, it is possible to download the e-book on the murder, The Bus Stop Killer, from iTunes.
Similarly for Hugh Grant (who gave evidence on phone-hacking this week), his back catalogue of films were all one click away to watch or download for later.
4 It is this addition of infinite layers that promises so much. What you see on the screen is just the beginning - you can go as deep or shallow as you want. And it all happens within the Zeebox experience: no new tabs, no messy screen - just fluid, and related, link after link.
5 Given how easy it is to navigate, it is all too easy to explore everything and end up missing the show itself. However, in time, I think it will become a natural part of TV viewing - where you look at a Zeetag about something that someone has just discussed in order to get information, or you interact and join the online debate.
6 It is Zeebox's ability to either fully engage you or simply act as a knowledge assistant you tap into that will make it enduring.
Oliver Newton is the head of emerging platforms at Starcom MediaVest Group
WHAT IT MEANS FOR ...
ADVERTISERS
- There are many as-yet-unanswered questions here and the Zeetags are the key. Will they become the next Adwords, with brands bidding ever more for them to link to their products? Will they be the way to push further programme content? Will advertisers and programme-makers be able to preload them with content and offers? Will users finally be able to click and buy the jacket that a character is wearing on the show they are watching? Or just simply add whatever product is being discussed in the ad to a basket? All of the above are in our reach.
THE TV VIEWING EXPERIENCE
- Previous TV advancements have been all about the delivery quality of the content on the screen. Now, we are moving into a world where it is the additional information and resource that can help make that content more engaging, informative and, ultimately, more enjoyable.