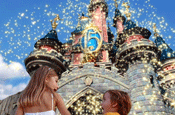 Following a review process that began with pitches in late February and was officially concluded last Friday, ZenithOptimedia has captured the estimated £20 million pan-European account for Disneyland Resort Paris.

Carat retains the larger Walt Disney Studios and Home Entertainment business.

The outcome is contrary to reports that predicted Carat would retain the entire business. The review had also involved MindShare and MPG, but both were dropped from the shortlist.

Disneyland Paris spends £6 million on media in the UK. The account is expected to switch to ZenithOptimedia by January.