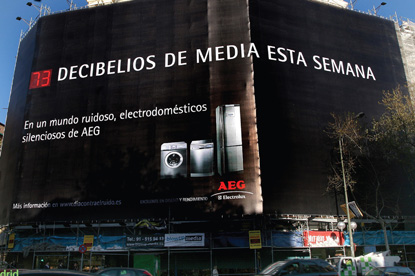 ZenithOptimedia's "the world is noisy enough" campaign for AEG washing machines, in which active sound levels measured from billboards were fed back to a website and which promoted AEG's low noise washers, carried off the UK Gold.
JWT Tokyo bagged the Grand Prix with a campaign for Nestle's Kit Kat, in which a mailer incorporating the chocolate bar was developed with the Post Office and Government to be sent to school children as a widely accepted token of good luck in their exams. Kit Kat means "surely win" in Japanese.
UK Silvers were picked up by Arena BLM for Westfield ("Grazia inside"); Starcom Mediavest for Honda ("live ad"); Saatchi & Saatchi and MediaCom, separately, for T-Mobile ("dance"); Ogilvy for Fanta ("stealth sound"); Mediaedge:cia for Morrisons ("let's grow"); Grey for the British Heart Foundation ("watch your own heart attack"), Proximity London for the Royal National Lifeboat Association ("mystery package") and Drum PHD for Sage ("The Krypton Factor").
The Bronze went to Elvis for Virgin Trains' live text interactive poster.
Phillip Thomas, the Cannes Lions chief executive, said the organisation had tried to "draw a line" under the media contest, which has in the past been criticised for judging creative ideas above media ones and failing to win the interest or confidence of media agencies.
This year, Thomas said, it had assembled the best possible jury, chaired by Nick Brien, the global president and chief executive of Mediabrands, New York, and, with him, had imposed rigorous new criteria. "We are trying to say to media networks that we are recognising and calibrating media for what it really is - execution, creativity and business results."
Brien said there had been "a new approach which has raised the bar at every level," and also ensured that Lion-winning entries had to include "definite pay-off against marketing communication objectives."
"We judged everything twice, " he said. "It was very tough, very long. We didn't reference last year. Last year was last year."
More from Cannes Lions 2009