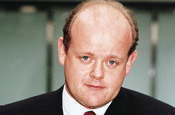 Zitter will now add responsibility for The Mail on Sunday, previously run by the former managing director Stephen Miron, to his existing role. As well as the Daily Mail, he currently oversees Associated Newspapers' digital operations, the Daily Mail in Ireland and Mail Today in India.

Associated Newspapers now plans to recruit a managing director for the Daily Mail, who will report to Zitter. It is understood that there may be some structural changes to operations at The Mail on Sunday over time.

The company has been looking for a replacement for Miron since he left in August to become the chief executive of radio at Global, overseeing the group's radio operations.

Last month, DMGT merged Associated Newspapers, its national newspaper division, with its regional arm Northcliffe, to form a new unit, A&N Media, and appointed the Associated group managing director, Kevin Beatty, to run it.