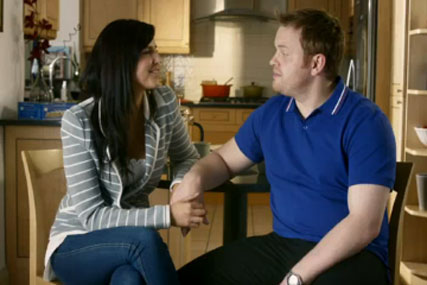 The campaign compares finding the perfect property with finding the perfect partner, showing a number of people discussing the house-buying process in terms that could be used to describe a relationship.
The campaign breaks today (25 August) and runs for five weeks. It is part of a multimillion-pound marketing push that will also include print and digital advertising.
Zoopla said the media planning, handled by Vizeum, meant that 87% of adults would see the ad at least once during the first push. Vizeum won the £5m account in June.
Alex Chesterman, founder and CEO of Zoopla.co.uk, said: "Our marketing to date has been largely focused online and we are now ready to turn Zoopla into a household name, targeting property buyers, renters, sellers and landlords, so that we can continue to be the most effective marketing partner for all UK estate agents."
Earlier this year, Zoopla launched a free iPhone app, allowing users to obtain valuations on properties simply by pointing the camera at a building. It claims to have the selling prices of 15 million homes, as well as local information.
Zoopla.co.uk was launched in 2008 by Chesterman along with Simon Kain, who founded LoveFilm together. It is backed by investment from Atlas Venture and Octopus Ventures.