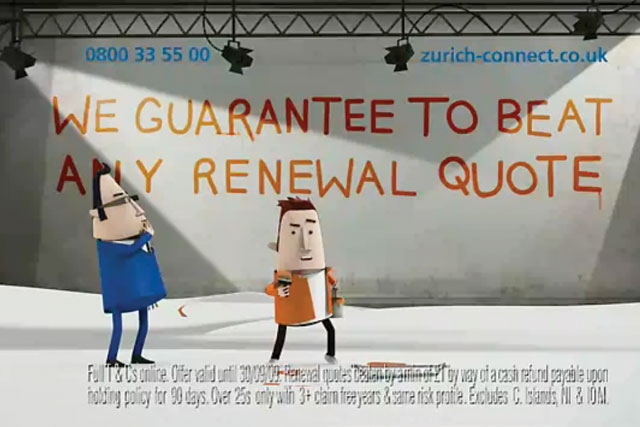 The pitch is thought to have been called by the company's headquarters in Switzerland.
Publicis Worldwide currently handles the brand's advertising in key markets, including Europe, North America and Asia.
Zurich, which spends £4 million in the UK, according to Nielsen figures, consolidated its advertising, including direct marketing and sponsorship, and its media account into Publicis in 2004. Publicis won the business after pitching against Ogilvy & Mather.
However, another WPP agency, Mindshare, has since captured the global media account after a 2009 pitch for the business against the Publicis-owned Zed Media.
Zurich's most recent major TV campaign in the UK featured two animated figures wearing the brand logo colours, blue and orange, voiced by the comedian Alexander Armstrong and the actor Marc Warren. The ad first aired in 2009.
The brand's advertising has been supported by DM, digital and experiential work. In 2009, it launched a DM campaign, also by Publicis, highlighting its motor and home insurance offering, which featured a letter that was blank apart from a message at the foot of the page that read: "Actually, we've got lots to tell you about. But we can't say anything until you tick this box."