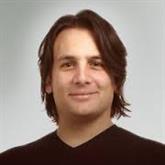 Joe Cianciotto
Executive Creative Director, Chief Digital Officer, DDB New York
Joe Cianciotto is Executive Creative Director of DDB NY and Director of Digital for the U.S.
As ECD of the NY office, his creative leadership has extended well beyond the digital space to include print, television/film, social media, branded content and CRM. Having founded, Amplify, an integrated proprietary process, he oversees all aspects of the agency's 135 person strong emerging media and social-driven integrated capabilities.
Before joining DDB NY, Joe was Vice President, Creative Director of Interactive at D'Arcy Worldwide.